You don't have to Grow Old, Tired and Weak...
Are You Ready to Make Some Real Changes In Your Life?
Changes That Will Last For A Life Time And
Keep You Up To Date With The Latest In
Energy Medicine Training, Qi Gong,
Powerful
Life Changing

Meditations
And the latest in Alternative Medicine...
Discover The Path To A Long And Powerful Disease-Free Life
Read On While I Reveal How You Can Cultivate All The Energy And Power YOU Could Ever Want...Let Me Show YOU How To Unlock Your Internal Power And Help YOU Live Every Day As A Champion!
Imagine waking up with:
An Abundance of Power and Energy inside every cell of your body
Every Muscle CHARGED UP and ready to fire into action
All the Tendons and Joints loose as a whip
A Rock-Hard Will
The Relaxed and Balanced posture of a Yogi
A head swimming with Creative and Positive thoughts
The laser like Mental Focus to accomplish any task
Indestructible Confidence
An appetite for LIFE!
All the while enjoying a great sense of Ease and Happiness.
Now imagine feeling that way forever.
Back in 2007 I started a very unique program, with a small group of committed students called "The Qi Gong Inner Circle." I made a pledge to coach them in the inner workings of Energy Medicine, Alchemy, Medical Qi Gong, Alternative Medicine, Taoist and Tibetan Buddhist Meditations.
Since that time the group has grown in both knowledge and size. Every month the students receive a teaching on a DVD or a CD, as well as a conference call meeting, only open to members.
Students have reported major growth in their personal lives in:
Career
Relationships
Family
Finances
Spiritual Practices
Travel & Meeting New and Interesting People
Completing Projects quicker and with more efficiency
Self Cultivation, Health and Knowledge
Overall Success
Now the program is about to expand, specially designed to carry you through the rest of your life in great health!

Dear Friend,
I'm going to do whatever it takes to put these precious teachings in your hands even if it means giving them away.
Once you hear my words, see the training, and feel the changes in your body, I know you will be hooked.
As a physician, sometimes it's my job to confront you with the truth and appeal to you to make choices on your own behalf.
Today I Want You To Ask Yourself...
"How Long Are You Going To Choose To Live?"
I say, choose and I mean CHOOSE because for 99.9% of all of us choose the quality of life and the quantity of life we live is about the choices we make daily more than it is about the hand we are dealt at birth.
I want to teach you what those choices are and what is more important is how to make it easy for you to make the choices that are going to lead to long powerful disease-free life.
None of us consciously chose to shorten our life span or build up stress in the body until it goes bad, but by accepting the default program already created for you by the media, pharmaceutical, and food manufacturing businesses, you are most likely making a handful of unconscious choices every day – and none of them really support or protect you.
My Lifelong Pursuit Of Alternative
Chinese Medicine, Qi Gong, European Biological Medicine and Decades Of Meditation Practices Has Brought Me Through The Ages With More Energy And Vitality Than
People Half My Age.
The study of Medicine and Asian Culture changed me, saved my life many times over and sustains me at a level of health very few my age experience.
I was extremely fortunate over the years because many of the Therapies and Techniques that are considered Mainstream Alternative Medicine today, I learned when they were just being discovered and there were only a handful of us practicing them in the 70's and 80's. Many times I learned directly from those who developed these medicines and the results we were getting from using them were profound even back then.
When it came to studying with the Masters of China, India, and Tibet it became a running joke among the students in residence that when some 'really heavy' teaching were handed out, I would show up out of the blue just in time to receive the teaching, some call that karma, good luck or a special blessing that I brought in from a past life. What ever it was when it came to the teachers in my life I was beyond fortunate, I was blessed when it came to being in the right place at the right time to receive the training I did.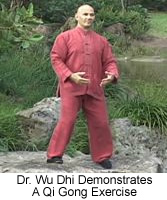 I think it is important to point out that in all the years of "Training" and "Studying" that I did, I was having the time of my life whether it was meditating on the top of a mountain or treating 80 plus patients a day at an acupuncture hospital in China or cooking in a Zen monastery kitchen or even treating those in need at the free clinic in Miami.
I loved all of it. I love this work and when I started to teach my first students back in the mid-seventies, I would teach them by first saying, "This is Fun." (And I still do.)
It became obvious as the years passed that the difference in quality of my life and the condition my body was in, vastly different than other men my age.
I do know that now, when I speak, when I treat a patient or when I am teaching that what I have to give has incredible value. I carry that value in me every day inside my bones, my muscles and my heart.
It's My Mission In Life To Share All The Secrets To Longevity And Vitality With You.
As a man of medicine for over 33 years now, I am confident to say that there are only two causes of death and they are both avoidable.
The first cause of death is misadventure. Simply put, a person becomes the victim of a "shouldnotta" - somebody shouldnotta have eaten that thing or they shouldnotta have done that thing or they shouldnotta said that to that person holding the gun.
The key to avoiding untimely death is two-part, Wisdom and Energy.
I didn't say Fate or Luck. In my past years and experience I have seen some of my patients recover or avoid all together what seemed like an unavoidable misfortune and Fate or Luck had nothing to do with it.
In every instance that I have seen someone truly triumph or overcome great obstacles (whether it be health, financial, or otherwise) it has been because they were Wise enough to see the choices right in front of them and had the Energy to make that choice.
What I Teach Is How You Can Cultivate That Energy And Power Inside You.
Yes, in most cases it takes Energy to make the right choice especially if the person has gone about their life accepting the default and habitual choice. I want to point out here I did not say the right choice is hard, in fact I would say that more often than not it takes more effort to make a Bad choice than it does to make a Good one.
A good choice can be as easy and dramatic as changing the channel on the television or shifting gears in a car from reverse to forward.
The opportunity to make a shift in one's own life happens every day several times a day but it's not always as obvious as what you might think, but the result is the same.
One path leads to fat, sick, tired, stressed, old and slow and the other leads to being fit, firm, youthful and relaxed.
Now consider that the Energy of your Life, your Qi that sustains you, works the very same way. It too requires Wisdom and Energy to cultivate.
Every day we have the opportunity to build our Internal Energy, Awareness, and Healing Power to transform our dreams into reality. We all have an idea of how life can change for us but without the Wisdom to see the opportunity and the Energy to grab it more often it passes us by in a puff of smoke.
It doesn't have to be that way.
Every Month I'm Digging Deep To
Discover The Best Way To Serve Your Health And Vitality And Sending It To You On A DVD.
Imagine every month having a new Qi Gong and meditation lesson delivered to your door with the valuable information you need to fuel a high energy year of record breaking personal achievement.
Every month I am teaching from both the Tibetan and Chinese systems of internal power and sending it to you on DVD.
These traditions complement each other because they spring from the same ancient ocean of wisdom. Combined this is a powerful system unlike any other and this is what makes these teachings unique.
Every month a new DVD will be sent to you in the mail with an additional letter of instruction.
I'm committed to helping you move forward and I will supply any additional mp3 or video instruction by email or internet.
In just a few months you will have a complete arsenal of exercises and techniques to enhance every aspect of your life.
By beginning now you will set the trend for the rest of your life to follow. More than 33 years ago I embarked on a journey that brought me before some of the greatest living masters on our planet and back repeatedly.
Today I am reaching out my hand to you and asking you to join me.
Come with me and discover the treasure of knowledge and energy waiting to be awakened inside of you.
I want to share with you EVERYTHING I have learned in my life long pursuit of the secrets of internal strength and vitality.
I can tell you that beyond a shadow of a doubt that…
Regardless of your age
Regardless of your physical condition
Regardless of your state of health
Regardless of how you feel about yourself
Regardless of whether you believe you can be more
Regardless of all that…
If you lend me your ear and follow the simple path I put before you, YOU WILL FEEL BETTER than ever before.
Energy is what we all need to do more and to be more. I call that energy Qi. (pronounce it "Chee")
Qi is the "genie in the bottle".
With Qi you can do anything. Qi gives life its exuberance and vitality. Qi opens the mind, body, and heart. Qi is the creative fuel of life.
Without Qi you simply grow old and die.
The way to increase the Qi is to open the flow of energy in the body. I do this in my Healing Practice with Acupuncture and Medical Qi Gong.
I will be sending you a Medical Qi Gong treatment every month that you can use over and over again.
I've taken a sworn oath to serve you, your health and your happiness and I intend to keep it. It's time for you to want the same for yourself. Here's how to start…

Join my "Qi Gong Inner Circle" now and every month automatically receive a new monthly CD or DVD of fresh content where I guide you through Qi Gong, Meditation, and the secrets of Chinese vitality.
A one on one training or treatments is normally $349 but through this special offer you will receive a concentrated lesson every month for $33.33 monthly or $333 annually.
When you join the Qi Gong Inner Circle you will also receive a 20% discount on all the "Qi Essential Supplements", The monthly DVD, The Conference call and all updates.
It's a steal at that price and my training will most certainly never be offered this way again. Jump on it now!
Wishing you the best in your Health, Wealth, and Happiness,

Dr. Wu Dhi
P.S. Here's a little note from my friend Matt Furey, one of the nations experts on fitness, and the power of the mind. He's one of my patients.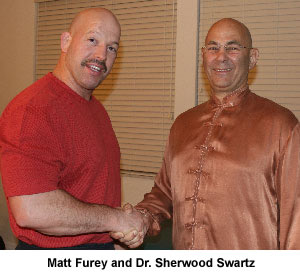 "Dr. Wu Dhi is the man I call when I want a treatment that takes me to the next level of health. He works on me as well as all of my family members, including my two kids.
Every session leaves us recharged.

I've also learned some very powerful Qi Gong exercises from Dr. Wu Dhi that anyone who is looking for "the edge" would be wise to learn right away."

Matt Furey
www.mattfurey.com